ROI Focused Pay Per Click Management Services

Using PPC to Build & Grow Your Business
What is PPC (pay-per-click) Marketing?
Pay-per-click marketing is a way of paying search engines for clicks to your website, as opposed to getting clicks from organic search engine results pages (SERPs) through search engine optimization (SEO). Pay-per-click ads typically appear in a colored box or labeled sections on search results pages and are separated from the regular search results on most major search engines.
How it Works
Every time your ad is clicked, sending a visitor to your website, you pay the search engine a fee. When your PPC campaign is well-designed and running efficiently, that fee should be trivial. This is because the visit is worth far more to your business than what you paid for the click. For example, if you pay $10 for a click, but the click results in a $1,500 client retainer, then you've made a hefty profit. Having a successful and profitable PPC campaign is all about tracking your conversions to ensure the ROI of your campaign remains positive.
"Click Sluice has increased our pay-per-click conversions by about 60% while lowering our cost-per-client acquisition by almost 30%. We're very happy with the work they've done for us."

Brian Donesley

Brian Donesley, Attorney at Law
Why it Works
PPC campaigns can be used to grow your revenue exponentially. This is because you're connecting directly with potential customers and clients as they are actively looking for your products and services. Let's be real, the days of advertising in the phone book are over. The internet is the new phone book, what does your business's online presence look like?
Key Metrics of a Good PPC Campaign
Keyword Research
It's imperative that you only advertise for keywords that are going to result in new customers, clients, and sales.
Ad Copy
Don't follow the crowd. Write creative ad copy that speaks to your potential customers and makes them want to click.
Landing Page
Your landing page should match your ad copy and be optimized for conversions with calls to action.
Conversion Tracking
Phone call and contact forms should have conversion tracking installed so that ROI can be tracked.
Stop losing business to your competitors.
Get Your Business Found With

Your prospective customers and clients are searching the internet for your products and services right now. Are they finding you? If not, you're losing business to someone else.
While we use multiple platforms for our PPC campaigns, by far our biggest and most successful are currently on Google Ads. Google Ads is the single most popular PPC advertising system in the world. The Ads platform enables businesses to create ads that appear on Google's search engine and other Google properties along with their large network of Adsense enabled websites.
We're Proud Google Certified Partners
As certified Google Partners, we're well-versed in all things Google. This includes Google Ads, Search, Analytics, Display Network and YouTube video advertising. As a Google Partner we must manage an ad spend of at least $10,000 every 90 days and continuously meet Google's standards to maintain our partner status. Being a Google Partner means consistently delivering quality service to all of our clients, which in turn provides them with a competitive advantage.
Full Focus on ROI with Call and Conversion Tracking
One of the advantages to having Click Sluice manage your PPC campaign is that we are ROI focused. "ROI" is not a buzz word to us, it is tracked and reported tangible results. We don't care how many clicks you get, we care about how much money you make. One of the most important aspects of a PPC campaign is the ability to track them properly. Most businesses rely on both contact form submissions and phone calls to drive leads for them.
At Click Sluice, we include tracking of both contact forms and phone calls in our PPC campaigns. This allows us to optimize your campaigns based on what really matters, paying customers. Your growth is our objective, and we are committed to providing you and your business with the highest return on your investment. Businesses hire us to increase their bottom line, that is the ultimate measure of our success.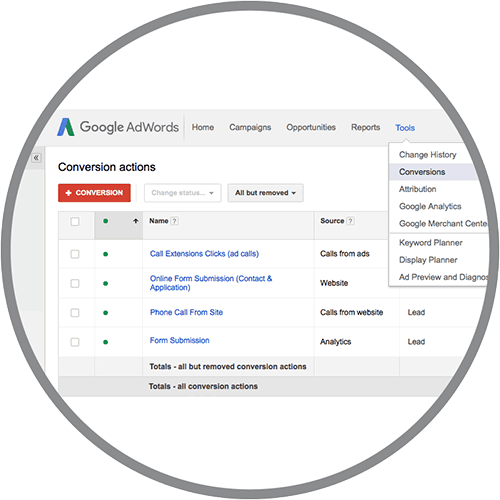 READY TO START GROWING YOUR BUSINESS?
LET'S TALK – SIMPLY CALL OR SCHEDULE A FREE CONSULTATION.