Stop Losing Business to Your Competitors
Get Your Website Found.
Using SEO to Build & Grow Your Business
Search engine optimization or SEO is the process of affecting the visibility of a website in a search engine's "natural" or unpaid (called "organic") search results. When people use search engines like Google, Yahoo, or Bing, the results are displayed and ranked in order of relevance to the user's search query. Many factors can affect a website ranking higher or lower, but with an average of 90% of users clicking on links from the first page of search results, knowing how to optimize your website to match what users as well as search engines are looking for can significantly improve its visibility to potential customers and help drive that traffic to your website.
SEO can help build and grow your business in many ways. First, you're connecting directly with potential customers as they are actively searching for your products and services. Second, getting your website placed in top spots on search engines like Google, Yahoo, and Bing can provide "instant credibility" in the eyes of your prospective customers and clients. Let's be real, the days of advertising in the phone book are over. The internet is the new phone book, and whether it's fair or not, perception is reality. What does your business's internet presence look like?
"We now have 5 high volume search keywords in the top 3 positions on Google which has resulted in a huge increase in the volume of loan applications we receive each month."

Brett Pierce

CountryPlace Mortgage – President, Retail Lending Division
Current studies show that nearly 80% of all buying decisions start with research on the internet. Your potential customers ARE searching for information about your business online. One of the keys to successfully marketing your products and services lies in its online visibility. We utilize and leverage the latest SEO techniques to help you gain an edge over your competition so that you get found first.
The Four Pillars of Good SEO
Website
A well-structured, fast, mobile-friendly website is essential. It should utilize a content delivery network and image compression tools.
Content
Your content should help demonstrate why a potential customer should choose you. Also, creating new and useful content (such as a blog) can put you in front of a wider audience.
On-Site
Basic website optimization is important, things like page titles and meta descriptions should contain appropriately targeted keywords.
Backlinks
Getting backlinks to your website from other websites is still highly correlated with strong organic search engine results.
Not just getting Your website found
Total Page 1 Domination.
When combined with a successful PPC campaign, you can appear on page 1 of Google up to 3 times.
By dominating page one of Google, it can portray a message to potential customers and clients that you must be the best (gaining you instant credibility). People have become more and more conditioned to believe internet resources like Google. The whole "if it's online, it must be true" thing, whether fair or not, is a factor. The good news is that this can lead to higher conversion rates for you (i.e. more customers, clients, and sales).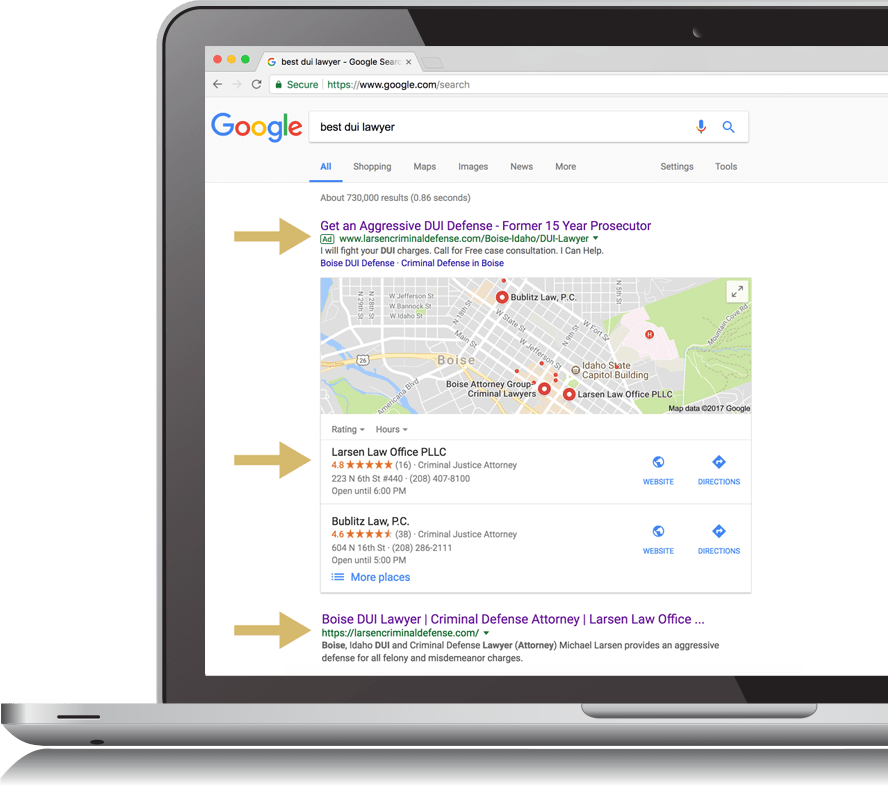 *image simulated for demonstration purposes.
Retention Through Results, Not Contracts.
We take pride in producing real results for our clients. We believe our work speaks for itself and we want to prove it to you. It's how we've managed to maintain over 90% of our clients year after year. We want to become partners and build relationships with our clients, not lock them into a contract that only benefits us.
Spa 35 – Spa 35 Med Spa has been helping clients in Boise Look and Feel their Best for twelve years. Spa 35 was a Business of the Year Finalist for the Boise Chamber of Commerce in 2017 and are the #1 provider of CoolSculpting in Idaho.
Results
Spa 35's Boise SEO campaign has been a huge success. They now have top rankings for the highly competitive keywords "coolsculpting Boise" and "med spa Boise" which brings in new clients month after month.
Confirm
Check

Results
All About Growth & ROI, Not Smoke and Mirrors.
We're dedicated to helping you achieve top search engine rankings so that your business gets more customers, clients, and sales. High search engine rankings are great, but it's increasing your bottom line that's our main objective. We are committed to providing our clients the highest return on their investment.
Clients hire us to increase their revenue, that is the ultimate measure of our success.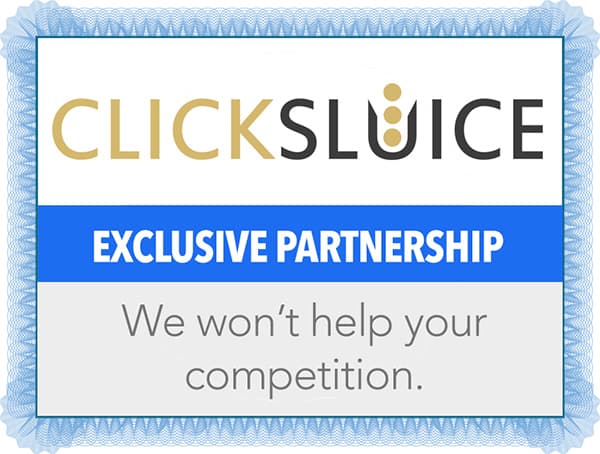 We Won't Help Your Competitors.
We only take one client per market and geographic area. Period.
We are not a "big box" marketing company and we're proud of that fact. In reality, we're actually quite "boutique." We are all about building long-term partnerships with our clients. A big part of that relationship is never helping your competition.
We want you, and you alone to dominate your market.
READY FOR MORE CUSTOMERS?
LET'S TALK – SIMPLY CALL OR SCHEDULE A FREE CONSULTATION.