A Digital Sluice Box for Your Business
.
We're an ROI Focused Digital Marketing Agency Serving Local Service Businesses.
sluice [slo͞os]
noun:
Also called a "sluice box" in gold mining. A long, sloping trough with grooves on the bottom into which water is directed to separate gold from gravel or sand.
What We Do
We're not another "SEO company."  Our sole mission is to provide your business with more of the customers and clients you want. We are committed to providing our clients the highest return on their investment. Clients hire us to increase their revenue, that is the ultimate measure of our success.
How We Do It
Like a sluice box, we separate gold from gravel by targeting your ideal customers and clients utilizing our Digital Sluice System. This, combined with our experience and a little creativity allows us to seamlessly connect more prospects to your business, and in turn, generate more revenue for your business.
Why it Works
For digital marketing to be effective, you need multiple elements to work together. If you have a bad website, or only run PPC ads, or only do SEO, it will not work. That's where our Digital Sluice System comes in. It's a process that we've developed over the course of 10 years for our specific clients and their exact industries.
A Digital Sluice Box for Your Business
.
There's a modern day gold rush going on right now and we're here to help you get your share of it. The advent of the sluice box allowed miners to increase their gold recovery and production 20 fold. Consider us your digital sluice.
Think of how a sluice box works in a river. It uses water and gravity to separate gold from gravel and sand. We use the same idea and principles. Except instead of gravity and water, we use digital marketing tools and instead of gold, we deliver new clients, customers, and patients (good as gold for your local service business).
Learn More About Our Digital Sluice System
Search Engine Marketing
99%
Pay-Per-Click Marketing
99%
Search Engine Optimization
99%
Conversion Rate Optimization
98%
Digital Branding & Content
97%
Retention Through Results, Not Contracts.
We're not "salespeople." In fact, we don't employ any salespeople and we don't do contracts. We believe our work speaks for itself and we want to prove it to you. It's how we've managed to retain roughly 90% of our clients year after year. We want to become partners and build relationships with our clients, not lock them into a contract that only benefits us.
When you do well, we do well. Click Sluice is built on "win-win" partnerships.
Successful Campaigns Launched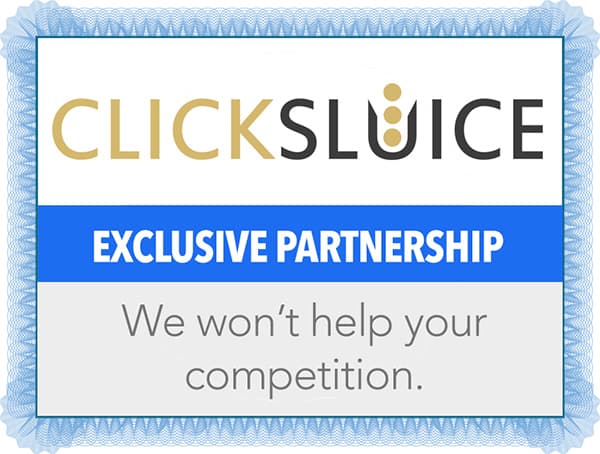 We Won't Help Your Competitors.
We only take one client per market and geographic area. Period.
We are not a "big-box" marketing company and we're proud of that. We're all about building long-term partnerships with our clients. A big part of that relationship is never helping your competition.
We want you, and you alone to dominate your market.
A Few of the Companies We've Helped
We're Proud Google Certified Partners
As certified Google Partners, we're well-versed in all things Google. This includes Google Ads (pay-per-click advertising, or PPC for short), Analytics, Display Network and YouTube video advertising. As a Google Partner we must manage an ad spend of at least $10,000 every 90 days and continuously meet Google's standards to maintain our partner status. Being a Google Partner means consistently delivering quality service to all of our clients, which in turn provides them with a competitive advantage.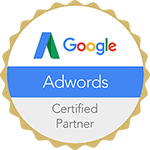 READY TO GROW YOUR BUSINESS?
LET'S TALK – SIMPLY CALL OR SCHEDULE A FREE CONSULTATION.