Get More of the Customers You Want.
How Plumbing Companies Can Win Online, Dominate Their Service Area, and Own Their Market.
Plumber Marketing in 2023
Start Growing Your Plumbing Business Today with a Proven Digital Marketing Strategy that Works.
This guide presents an overview of what we've found works for generating calls and new customers for plumbers using digital marketing. It contains actionable information that you can put into place immediately to start getting more of the customers you want for your plumbing business.
We discuss six main concepts that (when executed correctly) have proven to be a very successful way of generating calls and getting new customers for plumbers at a substantial ROI. These are:
Part 1:
Start by Creating a Solid Brand for Your Plumbing Business
At its core, your brand should position your plumbing business as an expert and not just a service provider. Experts can always charge more, they will stand out, and they will convert prospects into paying customers at a higher rate.
As you're developing a marketing strategy for your plumbing business, having a clear definition of your brand is important. Your brand needs to be central to all of your marketing in order to maximize the effectiveness of your efforts.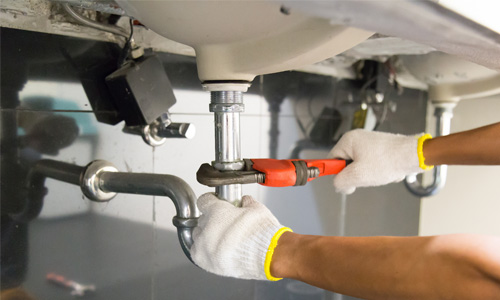 A brand is an identity. It's the image you project to your customers and prospects. It says who you are, what you do, what you stand for and what customers can always expect from your plumbing services.
Your prospective customers need to feel confident about working with you. Feeling confident can mean a number of things for potential customers. They want to know that you can help them solve their plumbing problems, that you will do it for a fair price, and that you are licensed and insured.
You'll notice that these feelings are primarily rooted in trust, reputation and authority, all of which can be built into your brand and expressed in your marketing efforts.
Begin with Your Logo 
A logo is an important step in branding and marketing your plumbing business. A good logo can drive conversion rates up, while a bad one can drive them down. The font, images and colors in your logo should be designed to resonate with your ideal customers.
It should look sharp and professional. We have found it to be a plus for logos to visually represent your geographic service area(s). This helps to set you apart from the countless number of "national" directories and lead generation companies. It should convey to potential customers immediately that you are the local expert, capable of solving their plumbing needs.
When choosing colors, consider the emotions evoked behind your choice. Colors are psychologically associated with different emotions. You can refer to this post to see a color wheel and get some ideas for your logo.
Your website colors and design can then be created around your logo so that everything matches nicely.
Once you have your logo, you can then move onto demonstrating credibility and authority. This can be accomplished in two ways. The first is through online reviews and the second is through the content on your website.
Online Reviews and Reputation Management
Online reviews have become essential to any plumbing company's brand and marketing efforts. Our survey from 2021 shows that 92% of people regularly read online reviews.
Our own recent online review survey showed that 63% of respondents said they trust online reviews as much as personal recommendations. Additionally, 51% of people said they would not hire a local home service business if they didn't have any online reviews.
Online Reviews Help Increase Search Engine Rankings
Online reviews can help to get your website and your local Google "Maps" listing ranked higher. This is because citations and reviews are major pieces of how Google's algorithm ranks your website locally.
The more reviews you have across a variety of platforms like Google, Yelp, and Facebook, the more quality signals you'll send back to Google, as well as to your potential customers.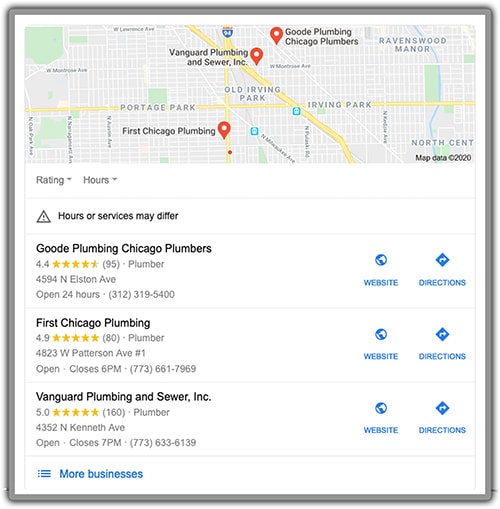 Positive Reviews Increase Conversion Rates
The second reason that online reviews are important is that they help convert more prospects into customers. Beyond search ranking factors, reviews serve as social proof to your potential customers that your practice will provide them with great service.
Many plumbers say that word-of-mouth referrals are a central part of their marketing strategy. However, data suggests that more people leave online reviews than give reviews or referrals in person. Additionally, far more people say they trust online reviews (almost 85%) than those who do not.
Conversely, bad online reviews can have a very negative impact on your marketing efforts. The Harvard Business Review found that a 1-star difference in ratings resulted in a 5-9% change in conversions.
How Plumbers Can Get More Online Reviews
If you want to generate more online reviews, having a process of asking for reviews in the first place is key. Simply sending an email or asking in person is the first step. You can do this very easily by creating a Google review link and sending it to customers directly via email or through a text message. Another effective way to build your online reviews is to use a tool like BirdEye or GatherUp which helps automate the process of requesting reviews.
The second way to demonstrate credibility and authority is through the content you publish on your website which we cover in the next section.
Part 2:
Supporting Your Brand with Compelling, Useful and Quality Content
The best way to position yourself and your plumbing company as experts online is through the creation of quality content which helps potential customers solve problems and answer questions while highlighting your experience and expertise. It should make clear to prospects what sets you apart from other plumbers in your area, and why they should choose you for their plumbing needs.
Google's algorithm has been refined to both reward websites with quality, useful content and to devalue the ones that have none. It's never been more important to create good quality content for your website than it is now.
This is why you should take the time to create an overall content strategy in order to achieve long-lasting effective SEO and conversion optimization results. We work with our clients to create customized and compelling content to attract new leads and convert them into paying customers.
Your content should be robust, well-written, accurate and most importantly, useful to your potential customers. There is no minimum or maximum ideal length; it just needs to be long enough to serve its purpose. Sometimes that may mean just a few hundred words, and other times, that may mean several thousand words.
Knowing Your Audience – We see a lot of plumbers describing services they offer. While this is important to do, alone it makes for very boring and repetitive content. Instead, we suggest you start with your ideal customer. What problems are they looking to solve, what questions might they have? What's going on in their lives? How can you help? Think about what information would be most helpful to them.
Solving your ideal customer's plumbing problems should be central to all of the content you create.
Keyword Identification and Targeting –The first step in content creation is to make a list of topics to create content for. Think about your conversations with potential customers when they first call you. What word choices do they use when they discuss their problems? Take note of these word choices, most likely this is what they, and many others, would type in a keyword phrase search.
You can then use free tools like Ubersuggest to find keywords and content that your prospective customers are searching for. You can also start typing something into Google, and you will see suggested search results. This usually is a good indicator of what your prospective customers are searching for. You can also scroll down to the bottom of Google's search results where you will see "searches related to" with more ideas you can use.
Unique Value (Selling) Proposition – You should spend some time considering the benefit of your services, how you solve your customer's plumbing needs, and what distinguishes you from the plumber down the street. You should then create website copy and pages that communicates the value of your services quickly and in a way that is obvious to your potential customers.
Website Pages
Your website pages should be used to introduce your company, describe your services, and answer common questions. Your pages should be used to build credibility and authority around your plumbing business. It's important to use these pages to communicate the full extent of who you are, what services you provide, and your capability to deliver results for your customers.
You want to be very clear about the extent of your plumbing services, as well as the geographic area(s) you serve. There should be no doubt left in a prospects mind about what the services you provide are, and how you can help them with their plumbing needs.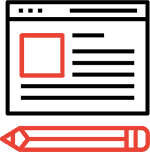 Blog Posts
Your blog exists for two reasons. First, to show prospective customers that you're a knowledgeable, trustworthy professional and second to get people to find your post, come to your site, and eventually call your business. Your blog posts should be centered around keywords and topics your prospective customers are searching for (see "keyword identification and targeting" above). If you do this, and create quality blog posts, you really only need to blog once a month to get big benefits from it.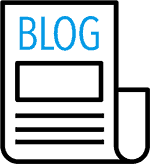 Images
The images on your website should look professional and be used to support the content you've written. They should be a visual representation of your content so that main points and key ideas are highlighted and illustrated. Images are a great way to subtly and subliminally convey that you are a local expert.
You can find images to use for your website pages and blog posts from sites like Adobe Stock and Pexels. It's important to use at least some of your own custom images as well. Cell phone cameras are now fully capable of taking a high-quality picture that can be used on your website. You can also hire a local photographer to make your website images more personal and professional. People respond to local and personalized images far more than stock images, so it's best to use stock images sparingly.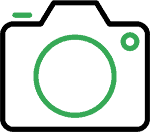 Videos
In 2020, it's going to be more important than ever to get going with video marketing for your plumbing business. Current data shows that you are up to 10x more likely to be featured on the first page of Google if you include video content on your website. It's an increasingly popular way for consumers to gather information online. Videos can also help you build trust with your potential customers which can improve your conversion rates substantially.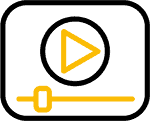 Videos can be used to introduce yourself and your technicians, along with featuring customer reviews and testimonials. Video reviews and testimonials are one of the most powerful ways to increase your conversion rates.
Part 3:
Showcase Your Plumbing Company's Brand and Content with Your Website
Your website should be the central piece of your digital marketing efforts. From a potential customer's perspective, your website is a direct reflection of your plumbing business. It's often their first, most lasting impression of who you are, what sets you apart and how well you can meet their plumbing needs.
It is important to consider how effective your website will be in getting people to want to schedule a service call with you. You can drive all the traffic in the world to your website, but if the website lacks fundamental elements, you'll likely convert little to none of that traffic and have very little to show for it at the end of the day.
This is one of the reasons many plumbers believe that SEO and PPC marketing doesn't work. If you're sending good traffic to a bad website, it won't convert (and those clicks can be expensive!) For these reasons, it's imperative that your business' website be built to convert prospects into paying customers before you spend any money on getting website traffic.
Elements of a Good Plumbing Website
The design of your website is critical to communicating the right message to your prospective customers. A clean, simple to use site with a strong, unique personality can instantly set you apart and help increase conversions.
Many plumbers struggle to articulate what services they provide in terms that their potential customers can easily and quickly understand. When designing your site, always put yourself in your ideal client's shoes. Your website should be able to communicate the value of your plumbing services in a matter of seconds and your message should be crystal clear, enticing and memorable.
A good plumbing website conveys what makes you unique and helps you stand apart from your competition.
Online, trying to be all things to all people is a great way to reach no one. Effective design zeroes in on the attributes that set you apart and communicates that unique identity through images, videos, words, and how your website is organized.
Feature Testimonials
Displaying testimonial videos and embedding online reviews from sources like Google and Facebook are a great way to increase conversion rates. You can use tools like EmbedSocial and YouTube to do this easily.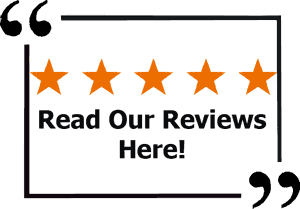 A good plumbing website answers a prospective customer's questions.
Make it simple for prospective customers to know that you are the answer to their plumbing needs. A well-designed website clearly communicates this upfront by answering questions they might have before ever speaking with you.
You can do this by answering frequently asked questions that you hear when speaking with prospects and current customers alike. Include these questions and answers throughout your website, in headlines, FAQ pages, and anywhere they fit naturally.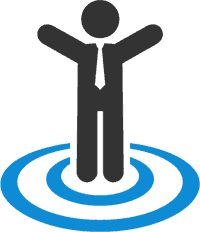 A good plumbing website has personality.
Don't just be another "stock/template" website. Keep in mind that while you're selling plumbing services, you're also selling yourself. Don't be afraid to add personal touches such as your photo to your website.
Also keep in mind that people are looking for a local expert. Avoid using too many stock photos. Choose images that reflect your personality, services and geographic area(s) you serve. Then, reinforce those messages in headlines and other prominent blocks of ad copy.
A good plumbing website is easy to use.
Your website should be mobile optimized with easy to read content on all devices. Fancy features such as Flash video and graphics, sliders or other memory-consuming content can actually make the user experience worse. Expensive features like this rarely increase conversion rates. Keep your website straightforward and easy to use.
Make sure that mobile versions of your website include features like "click to call" buttons and very simple contact forms. It should be easy for people to know how to contact you.
Part 4:
Get Your Website Found with SEO
Search engine optimization (SEO) for your plumbing business involves strategies and techniques that help attract more prospective customers to your website by obtaining first page ranking positions in search engines such as Google, Bing, and Yahoo.
A successful SEO campaign can be a plumbing business' largest source of new customers, while bringing in an excellent return on investment.
Keys Factors for a Successful SEO Campaign
Focus on these five elements to increase your plumbing business' search engine rankings.
Target the Right Keywords for Your SEO Campaign
Keyword research is all about determining which strategic keywords you should be targeting in your website's content, and then how to create that content to satisfy both search engines and the people searching.
Keyword research will provide you with specific search data that can help you answer questions like:
What specific terms are people searching for relating to your practice and geographic area(s)?
How many people (per month) are searching for those terms?
As we mentioned in the content creation section above, You can use free tools like Ubersuggest to find keywords and content ideas that your prospective customers are searching for, along with Google's "people also ask" section.
Simply put, you'll want to target the keywords that are going to have the most search volume, and result in the highest conversion rate possible for your business. The best approach is to target both short and long-tail keywords throughout your website content.
On-Site Search Engine Optimization for Your Chiropractic Website
On-Site SEO (also called technical SEO) is one of the main things that you can directly control in order to help your website rank higher. This include things like:
Title tags– Search engines like Google use your title tag to understand what your page is about and then serves that content to its users. Make sure your title tag is less than 155 characters, unique to the page, and click worthy.
Meta descriptions– Search engines show your website's meta description in search results more frequently when the searched-for phrase is within the description, so optimizing the meta description is a simple and import thing that can be done to improve your SEO.
Image alt tags– Applying alt tags to images can positively impact a plumber's search engine rankings, especially for local (Google Maps) SEO.
Schema– This is specific "markup" (code) that helps the search engines return more informative results for users directly within search engine results pages (SERPS).
The ultimate goal of on-site SEO is to leverage the factors Google uses to judge the quality of each of your web pages. You can then create content that uses these factors to enhance the experience of your prospective customers to increase conversions (contact form submissions and phone calls).
If your site isn't where you want it to be and you're not seeing the traffic or search rankings that your competitors have, you need to run an SEO website audit. An SEO audit checks for site errors, meta descriptions and title tags and helps you uncover what needs to be fixed or changed on your web pages to boost your search engine visibility.
You can use paid and free tools such as Ubersuggest and Ahrefs to run SEO website audits.
SEO Backlink Building Outreach
A backlink is a hyperlink from someone else's website to your website. Earning backlinks to your website is one of the best ways to increase your search engine rankings. It's important to know that you should only ever build natural, high quality backlinks, and although the volume of backlinks you have will impact your rankings, it is better to concentrate on quality over quantity.
Your SEO campaign should concentrate heavily on increasing the volume of relevant backlinks your website has. These can include partner's or vendor's websites, legal blogs, legal forums, legal directories and more.
Achieve Top Search Engine Rankings with the Right Content Marketing Strategy
Effective, quality content marketing is paramount for top search engine rankings. The content on your website has a direct effect on your website's ability to rank on Google and on your ability to convert website visitors into customers. Google has come right out and stated that "content" is among its top three ranking factors.
If you follow the steps in Part 2 of this guide "Supporting Your Brand with Compelling, Useful and Quality Content" then you'll already have this part covered.
Always create content for your potential customers first. Never put content on your website simply because you think your website needs more content. Everything on your website should serve a specific purpose for your prospect. It should address and answer frequently asked questions and help illustrate why you are the best choice to do business with.
Google Maps Listing Optimization
Google Business listings (Google Maps) are featured prominently on mobile devices for users seeking local products and services. As a result, Google Business SEO can create incredible exposure for plumbers.
Primary factors that influence Google Maps rankings:
Whether or not your practice is verified on Google Business.
The volume and accuracy of "citations" to your office (mentions of the practice name, address, and phone number on other web listings, such as Yelp, Facebook, Yellowpages, LinkedIn, etc.).
The total number and average rating of reviews on your Google Business listing.
The proximity in which your plumbing business is located to the searcher.
The domain authority of your website (having to do with the quantity and quality of your backlinks).
With mobile Internet use dramatically increasing, the relevancy for Google Maps marketing is on the rise for a majority of plumbing businesses.
Today's digital environment revolves around mobile use, with 90% of Internet users owning a smartphone.
Over half of Google searches done on a mobile device are done so with the intent of looking for a local business, service, product, or information.
Google search continues to focus on local searchers seeking products and services in their area. Beyond marketing, Google Maps displays general brand and business information such as hours of operation, physical location, customer reviews, and driving directions.
SEO can be labor intensive and time consuming, therefore it's not a bad idea to consider outsourcing the project to a competent SEO company. Search engine optimization should be an ongoing process that you have a plan to keep doing for as long as you want to stay high up in Google's search results.
That said, having a basic understanding of how a successful SEO campaign works is important. Any SEO campaign done for you should include all of the elements listed above. Furthermore, the price of SEO services varies widely. It's absolutely a good idea to talk with multiple companies and compare their price and the tasks they're actually performing for you.
Part 5:
Getting New Customers with a Pay-Per-Click Campaign
Pay-per-click marketing platforms like Google Ads are a great way for plumbers to quickly start driving prospective customers to their website.  When done correctly, PPC advertising can become a major asset in the effort to grow your plumbing business.
Pay-per-click ads are extremely effective for plumbers because they identify people at the exact moment they are searching for plumbing services and show them a relevant ad, phone number, and link to your website.
But, with plumbing keywords costing anywhere from $8 to $25+ per click, it's extremely important that your campaign is setup correctly in order for it to be successful. If you bid on the wrong keywords, or direct paid traffic to a bad website (one with an unprofessional appearance and thin content), it won't work.
Your website must be setup to convert prospects into customers before you start paying to send traffic to it. If it's not, you're essentially lighting those marketing dollars on fire.
Setting Up Your PPC Campaign for Success
If you've tried PPC marketing and haven't had the results you'd hoped for in the past, it's likely due to one or more of these reasons:
Targeting the wrong keywords (or using the incorrect match type). A "broad" match keyword for example can show ads for the wrong practice type. And truth be told, you should never target a keyword as broad as "plumber"
Your website isn't setup correctly to convert prospects into customers.
Your campaigns are not optimized correctly (this includes ad copy, ad extensions, and landing pages).
So, how do you execute a PPC campaign that attracts your ideal customers while maintaining a healthy ROI?
Target the Right Keywords
It's vital you ensure your target keywords speak to the search's intent and readiness to hire a plumber in your area. You don't always want to target keywords as broad as "plumbing" or "plumber." These keywords can cost as much as $20+ per click and often convert at a very low rate. This is because a broad match type for the keyword "plumbing" could end up showing your ad for searches such as "plumbing parts."
Make certain that you are only paying for your ad to show up for extremely specific keywords related to the services you offer and the area(s) you operate (i.e. "plumbers Seattle"). Paying for traffic from keywords that are too broad is the fastest way to waste your PPC budget with no results to show for it.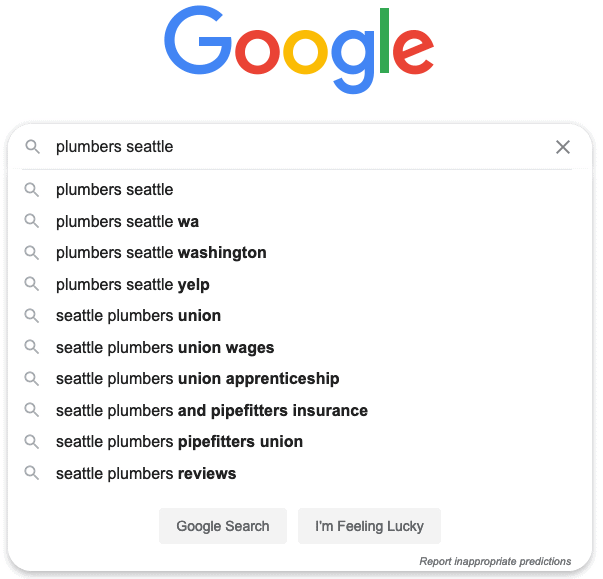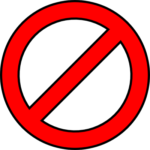 Refine your traffic with negative keywords. Negative keywords are terms that you don't want your ad to show up for. For plumbers it's important to include negative keywords such as "jobs", "salary", and in some areas "union" to prevent your ad from being clicked by employment seekers. There are many other negative keywords you may want to include as well, such as local competitors and keywords pertaining to specific services that are not ideal for your plumbing company.
Target the Right Geographic Area
Targeting too broad of an area is another way to quickly spend ad budget without a return. Take the time to consider your target customer and know what geographic areas they would be searching from. If you have multiple locations, separate these into their own campaigns so you can target each accurately and individually. You can target your ads at zip codes, cities, and even a radius around a specific address (such as your office).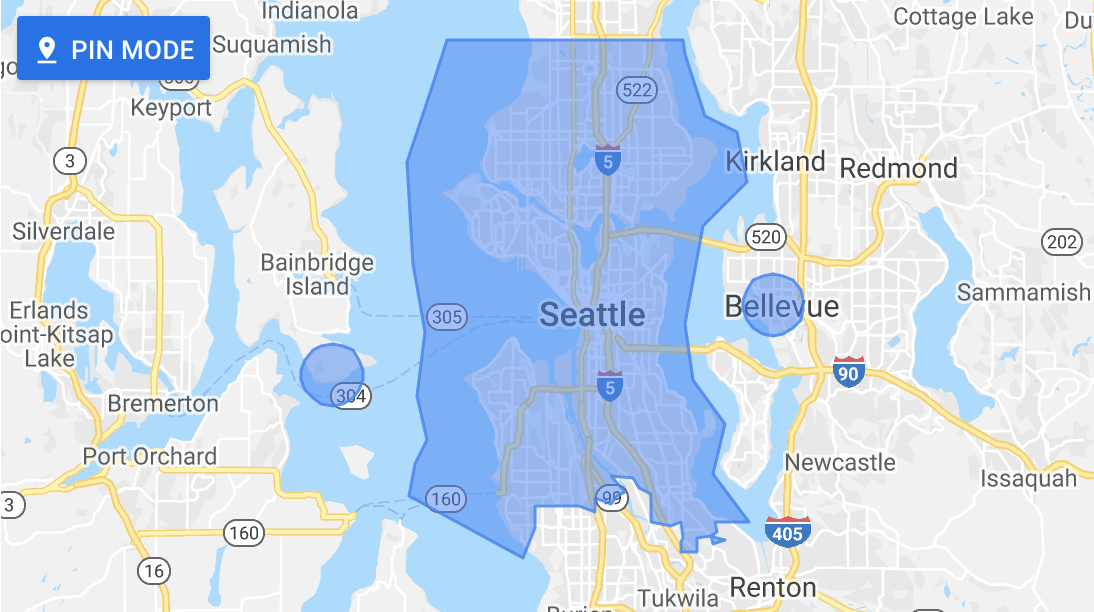 Use Keyword Targeted Landing Pages
It's also importance to direct certain keywords to targeted landing pages. For example, if you offer bathroom remodel plumbing services and somebody clicks on one of your remodel ads, make sure that ad takes them to your bathroom remodel page and not your homepage.
The more specific you can make your whole sales process using Google Ads, the better your results will be. Remember, prospective customers go through a progression of searching keywords. They scan results, clicking on a compelling one, and land on a webpage. They then either read and call you, or click the back button depending on how relevant your page is to their needs.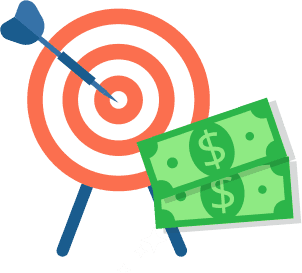 Use Google Local Services (Google Guaranteed)
Google has a fairly new addition to their PPC platform available to home services professionals including plumbing companies. To become a "Google Guaranteed" provider you'll need to submit your business to a background check, along with providing verification that you business meets all local license and insurance requirements.
This is a bit of a process, but once accepted, your PPC ads will now qualify to be displayed in the coveted "highest position" at the top of the page (even above the standard PPC ads).
Tracking conversions is the single most important thing you can do to ensure your PPC campaign is successful.
It's not enough to simply measure success by how many people click your ad. An ad might be getting clicked a lot, but if those clicks don't result in an acceptable conversion rate then that keyword needs to be eliminated from your campaign.
You need to know things like how long prospects are on your website, how many pages they visit, and ultimately if they called or filled out a contact form.
At a minimum, your campaigns should be setup to track all contact form submissions and phone calls. You can track conversions using the call tracking tools offered by Google Ads, Google Analytics, and third-party call tracking such as CallRail.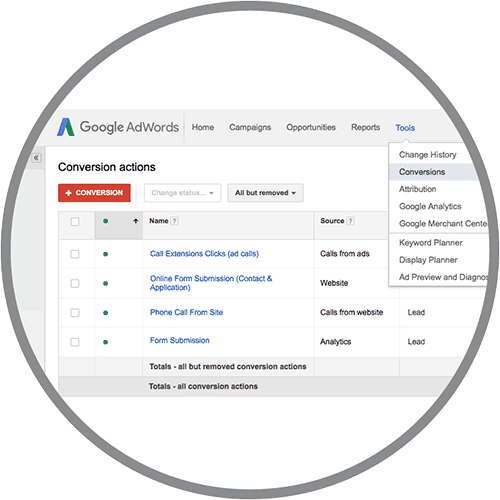 Part 6:
Increase New Customer Acquisition with Conversion Rate Optimization
Conversion rate optimization (CRO) is a combination of your branding, content, website, customer reviews, and calls to action (click to call buttons, contact forms, etc.). This is where it becomes important to review all the previous parts of this guide, and ensure they are working together.
Having a website and getting more traffic is only valuable if it leads to an increase in new customers. At the end of the day, everything in this guide is designed to do one thing… get you more customers.
If you follow the key elements in parts 1-5 of this guide, you'll already have the vast majority of your CRO completed. From there it's simply a matter of A/B testing things like images, ad copy, and offers.
Keys to Increasing Your Conversion Rates
Display Online Reviews on Your Website
Social proof is one of the most powerful and fastest ways to increase your conversion rates. What we find is that many prospective customers find a plumber by searching a plumbing service and geographic specific keyword first (i.e. "drain cleaning Houston"). They then go back to Google and search for that plumber specifically and include the keyword "reviews."
Preempting their search by showing them all of your best reviews on your website first can increase your conversions significantly.
Create Keyword Targeted Content Pages
The content on these pages should be optimized for specific keywords such as "drain cleaning" (whatever the Google Ads phrase or SEO keyword you're targeting). They should be unique for each specific service you are offering and promoting.
The content on these pages should specifically address (in detail) the search phrase a prospective customer used to arrive at the page. Going the extra mile to create a valuable, free resource for your prospective customers is one of the best ways to set yourself apart from your competitors.
Make Sure a Person is Answering Your Phone
It's amazing how many plumbing businesses are not answering their phones with a real person. If a potential customer calls and can't reach you right away, they're moving on to the next listing on Google. Don't spend time, money and energy getting more traffic to your website if you don't have a good system in place to have a real person answer every phone call at a minimum during regular business hours.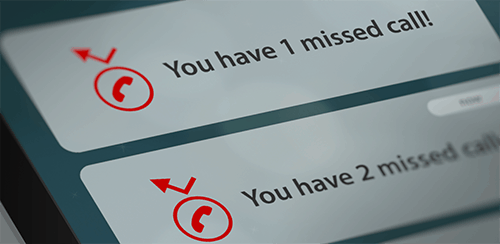 Track Conversions
This is the single most important step to running a successful plumber marketing campaign, and the one we most often see overlooked. You will never know how successful your marketing dollars are, or how to optimize your campaigns for more success unless you track conversions.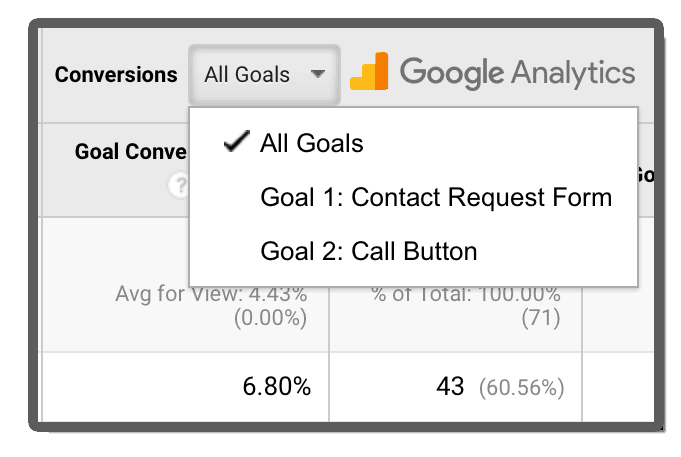 There is still a ton of opportunity for plumbers to grow their business with digital marketing in 2020, and it doesn't have to be painstaking or expensive. If you simply follow the fundamentals in this guide, you'll be well ahead of the vast majority of other plumbing businesses.
We hope you've found this guide helpful, but also empowering. You can absolutely still win online, the gold rush has only just begun. Take action today to start leveraging the power of digital marketing for your business and start getting more of the customers you want!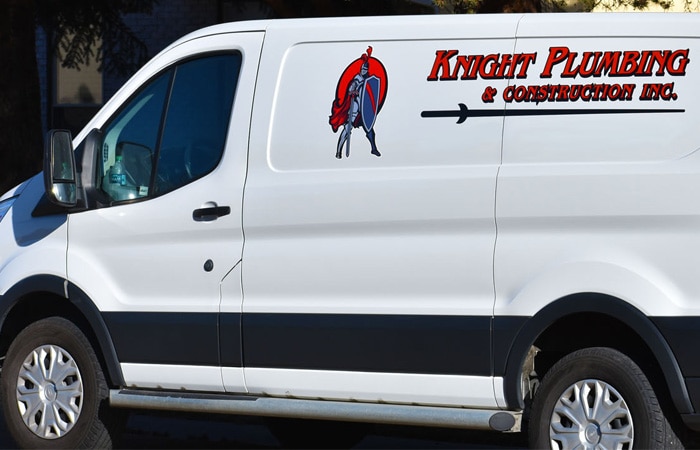 Have a Question About Something You Read in This Guide?
Reach Out, We're Happy to Help
No high pressure sales (we hate that too), and no confusing reports or industry jargon. Just straight talk about how we can help you get more of the customers you want.
Dramatically improve & track your marketing ROI.

Increase new customer acquisition rate & quality.

Reduce cost per customer acquisition.

Outperform your competition and dominate your market.
*Your privacy is very important to us. We will only use your information to contact you back, we will NEVER sell or distribute your information.