Importance of Getting Google Reviews for Your Business
Google Business Reviews Increase Brand Trust Which Increases Conversion Rates
Online reviews have become essential to any business' brand and marketing efforts. Transparency is becoming more and more important to consumers. Today, not only is it not uncommon for a consumer to research a business before purchasing a product or service, it's become the norm.
A large part of this research is now being done through Google Reviews. Our recent survey shows 92% would seek out and consider online reviews before hiring a local home service business.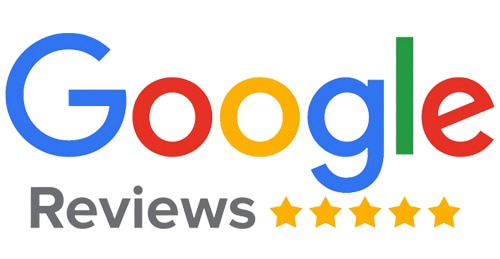 Our recent online review survey also showed that 63% of respondents said they trust online reviews as much as personal recommendations. Additionally, 51% of people said they would not hire a business if they didn't have any online reviews.
Positive online reviews are worth their weight in gold and should be a top priority in marketing your business.
Google Business Reviews Increase Online Exposure & Local SEO
Google's search algorithm now takes into account Google reviews as part of their local search results rankings. The three review factors that can have a positive effect on your search rankings are review quantity (how high is your star rating), velocity (how often you get reviews), and quantity (how many total reviews you have).
A well-balanced combination of these three review signals can help boost your local business towards the top of Google local search results. This helps your business get found more easily and more often than utilizing traditional SEO alone.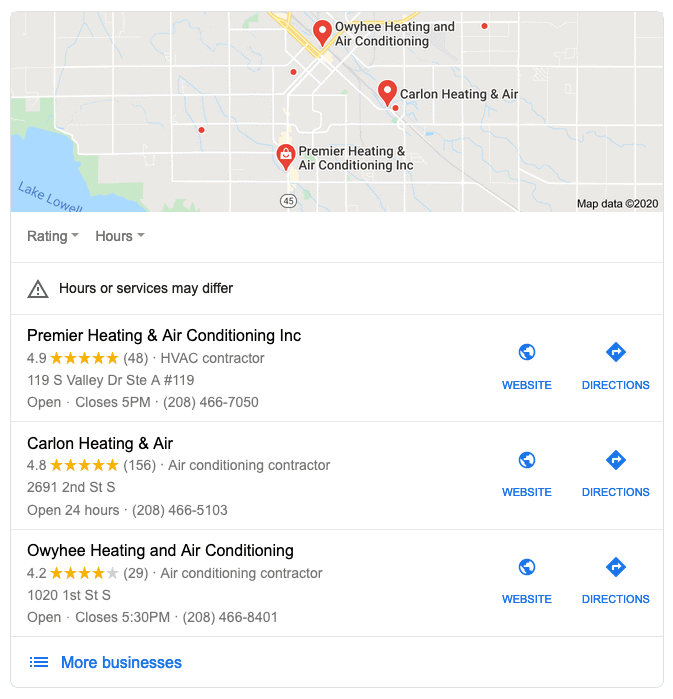 Google Business reviews can be one of the most valuable pieces of your local online marketing efforts. This is partially because Google Business reviews can help your business show up in the "Map Pack" more often.  The Map Pack (shown above) consists of a group of businesses near the location from where you're searching. The map pack displays the name and link to the business, the address and phone number, and the total number of Google reviews in addition to the average rating of a business.
How to Create a Google Review Link for Your Business that Works on Both Desktop and Mobile Devices in 3 Simple Steps
Step 1: Claim Your Listing (if you haven't already)
The first step to creating a Google review link for your business is to ensure that you've claimed and verified your business using Google My Business. If you haven't done this yet, you can do so easily by following the step-by-step instructions found at the link above.
After you've claimed and verified your business, you can now log into your dashboard where you'll be able to create your business "short name" (@). Once you've done that, you'll be able to get your Google Review link to send to customers and clients for reviews.
Step 2: Create Your Google Business Short Name
On your Google Business dashboard, click the "Info" section and then scroll down to the "@" section. Click the edit icon and then enter the name you want to use for your short name (this can be the name of your business, or you can also pick another word that describes your business or brand), then click "Apply."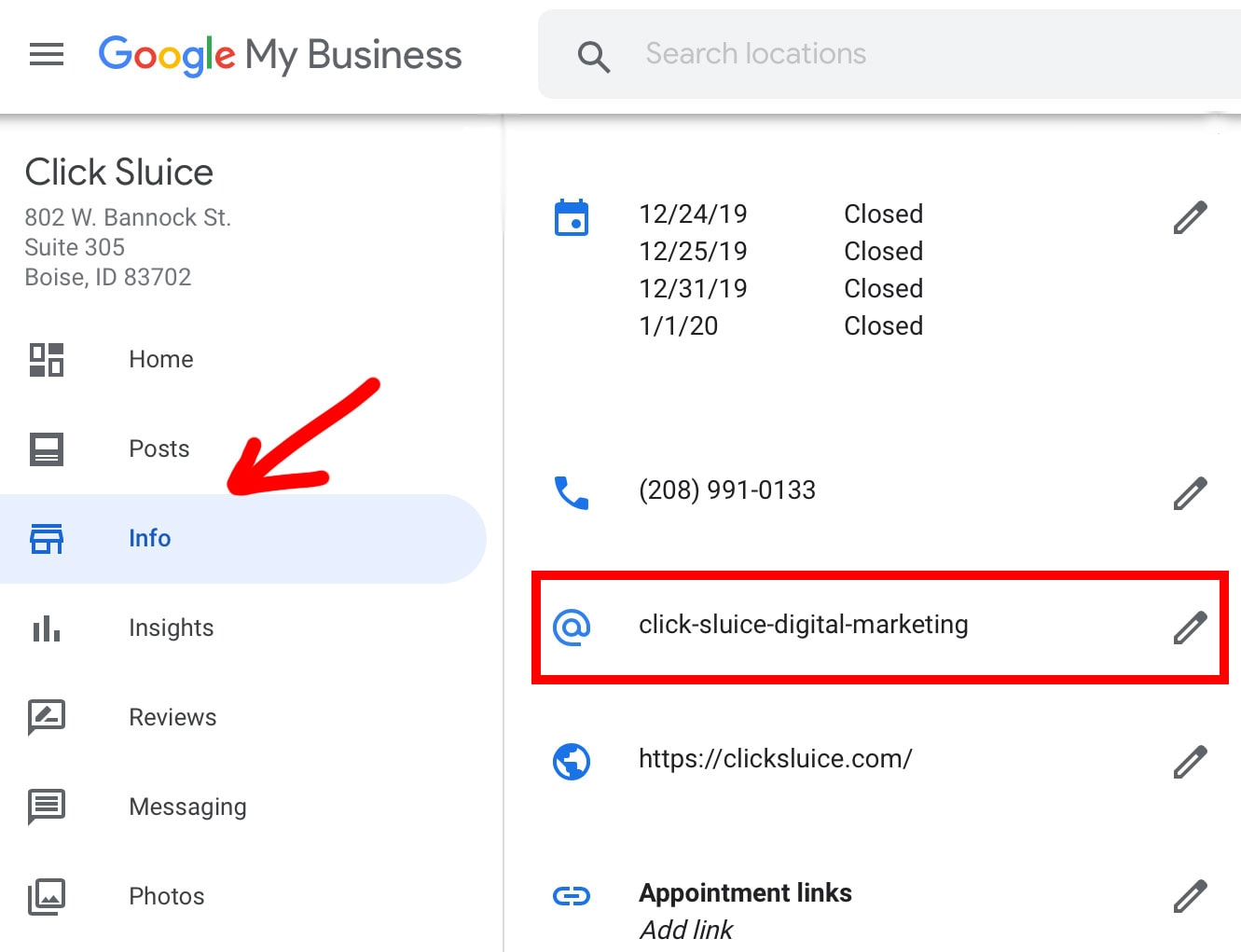 Step 3: Copy Your Google Business Review Link
Go to the "Home" section and scroll to the area that says "Get more reviews" and click the "Share review form" button. That will then open a window with your new short link that you can send to customers to request a Google review. This link will take them directly to the review form, and the best part is that this one link works on both desktop and mobile devices.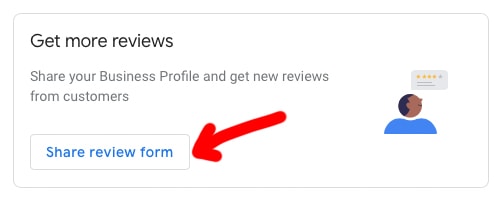 How to Send a Google Review Link to Request a Review
Now that you know where to find your Google review link, you can start sending it to customers and clients to request reviews.
Send An Email
You can copy your Google review link and paste it into a simple email template to send to customers and clients. Research shows that up to 70% of reviews come from emails sent after a business transaction. Crafting a visually appealing message with your Google review link can easily convince customers to provide the feedback you need to attract more customers and improve your overall service.
Use SMS (text) Messaging
Mobile devices are quickly taking over in today's digital age, and you can use them to have a direct line of communication with any customer or client. The easiest way to share your Google review link via text message is through the Google Business app, which is available on both Android and iPhone.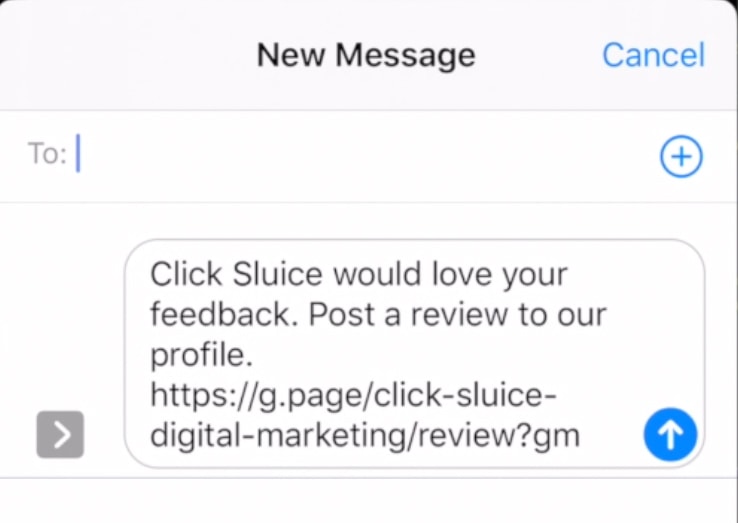 To share your Google review link via the Google Business app:
Click the "Customers" section and tap the "Reviews" option.
Tap the "Share" icon in the top-right hand corner of the screen.
You are now given the option to share your Google review link via text message, email, and other options such as social media. Or, you can simply copy the link and paste it into any message you like using your mobile device.
How to Create a Google Review QR Code
Step 1: Go to your Google Business Profile Manager
Go to business.google.com. Then in the "Home" section scroll down until you see the "Get more reviews" section. Click on "Share review form" and then copy the link in the dialog box.
Step 2: Select a QR code generator
Note that when you are picking a QR code generator there are paid and free solutions. Paid solutions often offer tracking options so you know if your customers are using your QR code. When considering whether to pay for a solution for the tracking options be sure you have a clear strategy and reason for tracking scans.
For our demonstration video we are using QR Code Monkey which you can use to create a free QR code for your Google Reviews at https://www.qrcode-monkey.com.
Step 3: Fill in Details
Under the "Enter Content" section you will paste the link that you just copied from your Google Business profile manager. Then you can customize your QR code further by adding your company logo and/or changing the colors and design of the QR code itself.
Once you have finished customizing your Google Review QR code, all you have to do is simply click "Create QR Code" to preview what it will look like. You can also then scan it with your phone to test and be sure it's working correctly. Once you've done that, just click "Download PNG."
That's it, you will now have a Google Review QR code for your business that your customers or clients can use their phone to scan very quickly and easily to leave your business a Google review.
Conclusion
Getting reviews on your Google Business profile is one of the best ways to increase your online exposure while also increasing your conversion rates. By making reviews a central piece of your digital marketing efforts, you'll be well on your way to getting more of the customers and clients you want.